Outstanding formal and casual contemporary dinnerware for any entertainment occasion!
Contemporary dinnerware has modern colors and designs as compared to traditional, rustic or western settings, for example. It can be considered dinnerware modern formal or contemporary casual dinnerware.
Most contemporary dinnerware can be placed in the dishwasher, although formal china modern dinnerware should always be washed by hand.
When you place your dishes in the dishwasher, make sure your dishes do not touch each other and use a natural non-abrasive cleaning product. If you have platinum or gold-banded formal china dinnerware and you want to wash them in the dishwasher, make sure you use the gentle cycle only and turn off the dishwasher before the drying cycle. High temperatures used during the drying cycle can change and soften the materials used around the metal bands of the pieces.
If your china is expensive, make sure you place round coffee filters or paper plates between each plate before you store them in the cabinet. This will keep your china from getting any scratches or get chipped when you place them directly on top of one another.
Here are examples of quality contemporary dinnerware modern sets that are available online.
Noritake 4-Piece Ambience - Mocha Java Dinnerware Set
Noritake dinnerware modern set comes in shades of creamy neutrals and light greens.
Emeril Professional Contemporary Casual Dinnerware
• Emeril's design has a natural flair combined with modern design - this collection has graceful neutral colors. • Contemporary casual dinnerware set can go from the oven to the table. • Emeril's set is dishwasher and microwave safe.
Noritake Mocha Java Contemporary Dinnerware
Enjoy the warm shades of creamy neutrals and eye-catching geometric patterns of this setting - use it for every meal.
Mikasa Italian Countryside 45-Piece Contemporary Set
Mikasa Italian countryside pattern on white china. Dishwasher safe and for microwave use. Set includes eight dinner plates, eight soup plates, eight saucers, eight salad plates and eight mugs and much more.
Fiesta Contemporary Bright Dinnerware
• Modern design dinnerware by Fiesta! This colorful contemporary bright patio dinnerware set by Fiesta includes a dinner plate, salad plate, cereal bowl and mug. • Made of glazed ceramic in Fiesta's signature style, each piece can be safely used in the oven, microwave or dishwasher.
Villeroy & Boch Twist Alea 18-Piece Contemporary Bright Dinnerware Set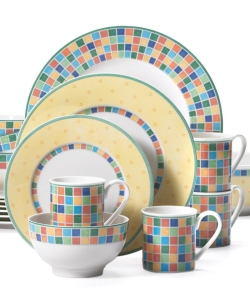 Combining old-world country style and modern craftsmanship - the Villeroy collection is available in various place settings and serving pieces. Each piece carefully crafted in ceramic is hand-painted and unique, adorned with bright colors and patterns.
Noritake Colorwave Dinnerware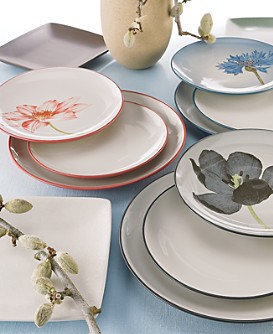 This Colorwave contemporary casual dinnerware collection inspired by the Japanese is simple and versatile - white stoneware accented with rich, vivid color.
Noritake 45-pc. Imperial Baroque - Rothschild Casual Contemporary Dinnerware Set
This modern Noritake shape contemporary dinnerware set adds drama to your dining table and includes a 45 piece set for four with 5 dinner plates, 5 salad plates, 5 bowls, 5 mugs and 5 saucers.
Contemporary dinnerware related articles.
Blue pattern dinnerware to fit any dining environment. Green dinnerware for your home! Here are many brands of fine English bone china for your home. Looking for blue and white pattern dinnerware! Shop for Oneida flatware, fine china and crystal.
Copyright (c) InfoSearch Publishing All Rights Reserved And Disclaimer.