Enjoy this log cabin magazine 8 times a year... it's the #1 log cabin living magazine...
Cabin Life is the log cabin magazine that is in a class by itself. There's not another log cabin magazine like it anywhere!
If you're interested in a log cabin living magazine for country, mountain or waterfront living - this is the magazine for you. Just click on the image below to order or to view more details about this informative and fun resource.
Cabin Life Magazine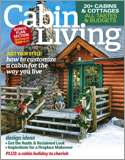 Perhaps having your own cabin has been a dream since you were a child. Or you might have fallen in love with these kinds of structures after a fun vacation in the mountains or by the water. No matter when you've gotten the fever, you may have decided to build your own cabin. That means you're going to take a unique journey.
That's where the log cabin magazine Cabin Life comes in. There's a lot to know and do as you think about, plan and build your dream. You can even use this resource to find the suppliers of floor plans. You can save hundreds or thousands in design fees if you can use stock plans that have been built already.
Inside its pages, you can also find producers of kits and builders that can assemble or construct your special space just for you. What about log cabin rentals? You'll find sources of the very best ones in the issues of this wonderful magazine.
Perhaps you already have your log cabin - this magazine is for you...
You'll enjoy the regular magazine feature articles on various aspects of log cabin living. A recent summer issue included these features:
• Dealing with roof leaks
• Hiding wells and septic tanks
• Quilts, comforters, and blankets
• Salsa recipes for the summer
• Growing grass under shade trees
• Moving to your vacation home full time
• Finishing a porch, patio, or terrace
• Grilling with beer
• Identifying birds
• Fun pontoons, life vests
• Building a wooden garden bridge

Of course, since there are eight issues a year, each season of the year will be represented with appropriate feature log cabin living magazine articles.
There's a real estate directory, vacation rentals directory, and a country store section in every issue. This is the cabin life magazine not to be missed! DO ENJOY!
Whether you're searching for a log cabin chalet magazine or magazines for log homes - use the info on yourdreamloghome.com to find just what you're looking for.
Log cabin magazine related articles
Learn more with a great log cabin book. See great log cabin plans. For more on log cabin rentals, go here. Log cabin magazine and log home magazines. Enjoy these professional kitchen and bathroom magazines. Landscape lighting and rustic post outdoor lighting.
Copyright (c) InfoSearch Publishing All Rights Reserved And Disclaimer.