Elegant and durable rustic dinnerware for your home...
You can find rustic dinnerware made of the following materials:
• Stoneware - is a nonporous fired clay material with added ground stone that is stronger than earthenware and versatile enough to use in the microwave, dishwasher or oven.
• Porcelain china - is a porcelain that contains the same materials as bone china but without the bone ash. This makes it less translucent than bone china. It is strong and chip-resistant, with a more delicate feel than stoneware.
• Bone china - is a form of porcelain made of quartz, kaolin clay and bone ash. Bone china is usually white and very translucent. It has a very delicate appearance but is surprisingly strong.
• Earthenware - is defined as clay material that is baked at high temperatures, often with ornamental glazes such as delft, majolica or faience. A breakable material, earthenware is also known as ceramic.
• Porcelain - is a material made of fired quartz and kaolin clay that is strong and chip-resistant and is easily molded into delicate forms.
The rest of this page has quality rustic dinnerware from dependable online suppliers. Take your time and enjoy your search.
Sango 16-piece Nova Dinnerware Set, Brown
This ceramic rustic dinnerware features simple shapes and earth-toned, glazed effects. Rustic browns and blacks are combined with greens and neutrals resulting in a beautiful palette with unexpected variety.
The 16-piece set includes four each - dinner plates (10.5 inch), salad plates (7.5 inch), bowls (6.25-inch diameter) and mugs (4-inches high). The colors and shapes of these handmade pieces will vary and no two pieces are the same.
Villeroy & Boch French Garden Dinnerware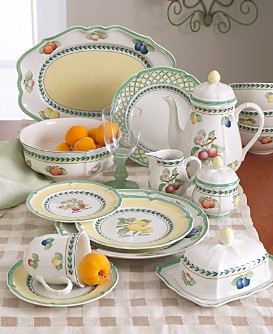 Four designs allow you to mix and match to express your personal taste. What is so fun is that you can select a dinner plate in one pattern, a salad plate in another and complete your collection with matching accessories and serving pieces in Fleurence. Porcelain and all pieces are dishwasher and microwave safe.
Pfaltzgraff Italian 20-Piece Rustic Dinnerware Set, Service for 4
• Pfaltzgraff rustic Italian dinnerware set is beautiful and durable. • This 20 piece set includes 4 dinner plates, 4 lunch plates 4 soup bowls, 4 saucers and 4 cups.
Rustic dinnerware, rustic white dinnerware and rustic ivory dinnerware related articles:
Oneida flatware, fine china and crystal. Flatware chests. Blue Pattern Dinnerware to fit any dining environment. Beautiful Green Dinnerware for your Home! Contemporary dinnerware for any entertainment occasion! Sterling Silver Flatware for your home. Elegant and high quality Tuscan dinnerware. English bone china for your home. CorningWare French White Dinnerware for your kitchen! Blue and White pattern dinnerware! Different brands and styles of flatware for your home.
Copyright (c) Personal Wellness Network, Inc. All Rights Reserved And FDA Disclaimer.